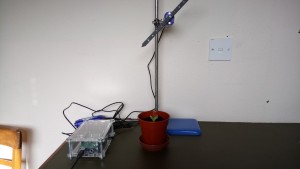 Here at ScienceScope we have set up a plant growth experiment to measure the growth of Broad Beans. To start with the growth is returned as angular rotation, this will soon be converted to distance of growth in the exploratory.
The temperature sensors are reading ambient room temperature in different locations around the plant/room. The humidity sensor is reading relative humidity of the room. The sound sensor is the ambient sound of the room. Light and sound are built in sensors of the IoT logger.
The rotation sensor can be converted to distance by using Angular displacement which converts the rotation into distance. This will soon be added into the portal as a sensor.
You can view the sensors of this device in a dashboard by clicking the link below. This dashboard updates with new data every 10 minutes and will store the last 10 data points.

You can view this data by going to the Exploratory page and finding the device called Plant Growth ScienceScope 1027 Exploratory